Keywords :
Chewing lice
---
This study was conducted to isolate and identify the chewing lice from some raptors in Basrah, Thi-Qar, and Missan provinces located in south of Iraq. Samples of birds were collected from January to December 2018. The survey was accomplished with a total of 87 raptors belonging to five species, sparrow hawk Accipiter nisus, marsh harrier Circus aeruginosus, lesser kestrel Falco naumani, kestrel Falco tinnuculus, and black kite Milvus migrans. Totally 58 of 87 birds were infested with chewing lice, the overall prevalence was 66.67%. Five chewing lice species were identified: Craspedorrhynchus platystomus, Degeeriella fulva, Degeeriella fusca, Degeeriella rufa, and Laemobothrion maximum. All these specieswere identified in Iraq for the first time. D. rufa was recorded the highest prevalence in all raptors with 28.74%, whereas C. platystomus was the lowest 10.34%. As for the prevalence of bird's species, the highest percentage was recorded in kestrels and black kite with 71.43%, while sparrow hawk was the lowest 53.85%. Some notes about ecology and occurrence of the chewing lice were reported.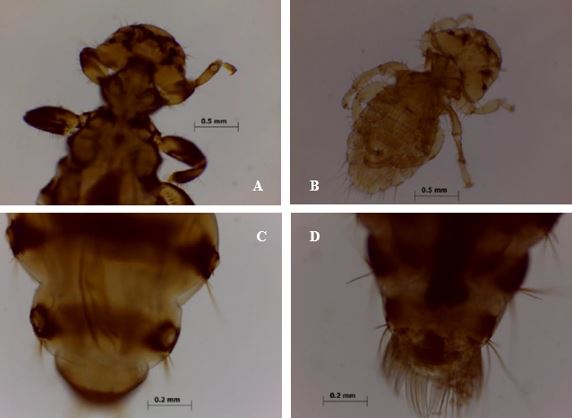 The present study was carried out to determine additional chewing lice of aquatic birds and additional data on the prevalence of chewing lice in aquatic birds found on the Southern marshes of Iraq. Sixty-nine of different species of aquatic birds were randomly collected and examined for chewing lice in Al-Sanaf marsh, which is located in Thi-Qar province / Southern Iraq, between October 2016 and February 2017, the lice placed in tubes containing 70% ethanol after that they cleared, mounted and identified according to morphological features. Twenty-five (36.23%) out of 69 aquatic birds were infested with chewing lice, a total of six lice species were identified from birds in the current study included
Piagetiella
titan
and
Pectinopygus forficulatus
infested White Pelican
Pelecanus
onocrotalus
,
Actornithophilus
piceus lari
infested Slender-billed Gull
Larus geni
,
Actornithophilus
himantopi
infested Black-Winged stilt
Himantopus himantopus
,
Rallicola fulicae
isolated from coot
Fulica atra
and
Rallicola parani
infested moorhen
Gallinula chloropus
. Three lice species:
Pectinopygus
forficulatus
,
Rallicola fulicae
and
Rallicola parani
were recorded in current study for the first time in Iraq. We need further investigations of Phthiraptera fauna are very important, not only to complete the list, but also to provide information about parasite-host vector relationships and phylogenetic relation among species.