Keywords :
Mange
---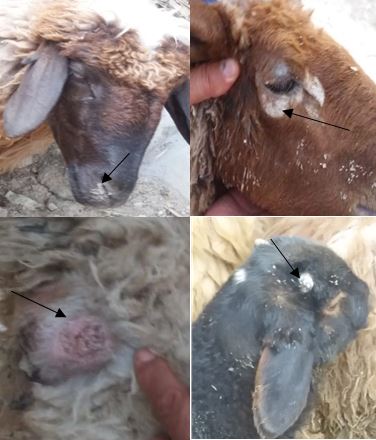 This study was conducted to investigate the prevalence of mange in sheep in Anbar province by examining 462 heads of sheep. The disease was diagnosed by examining the skin scraping taken from the infected animals in the laboratory. The results showed that sheep were infected with
Sarcoptes scabiei
parasite, and the total infection rate was 34.6%, and no significant difference was recorded between males 34% and females 35.2%, the highest rate was recorded in the month of January %56 and the lowest in the month of August 13.1%, and the highest rate of infection was 49% in sheep at the age of 6 months - 2 years and significant differences for the rest of the ages. Head and neck lesions recorded the highest infection rate of 28.7 and 34.3% respectively. The study also included the effect of the crude watery extract of
Onobrychis ptolemaica
on the parasite, concentrations of 2.5-10 mg/ml have significantly affected parasites, it was noted the greater the concentration, the greater the effect during the different treatment periods. The highest concentration of 10 mg /ml resulted in the disappearance of all scabies parasites on day 14 of the treatment. Results showed sheep infection in Anbar province with mange in both sexes, high incidence of infection in young ages, high rate of infection in the winter months, and head lesions recorded the highest percentage of infection, the results showed the effect of concentrations of the crude watery extract of
Onobrychis ptolemaica
plant largely on the parasite.