Keywords :
<i>Prosopis farcta</i>
---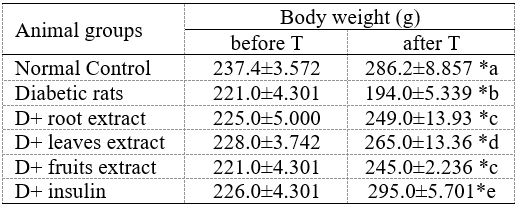 This study aimed to investigate the effects of ethyl acetate
Prosopis farcta
extracts on some complications associated with diabetes in rats. The experimental rats of 1.5-2 months old that weighed 190-220 g were randomly divided into six groups of seven animals each. Body weight, serum glucose, hematological changes and lipid profiles were studied. Alloxan was used of induction diabetes in rats
.
252 rats were used anddifferent doses of the ethyl acetate extracts of roots, fruits, and leaves of
P. farcta
were orally administered daily for 28 daysfornormal and diabetic rats and the effective dose was 200 mg/kg BW for each kind of extracts. The results showed that administration of root, leaves and fruit extracts of
P. farcta
caused improvement in body weight, blood glucose, red blood cells (RBCs), hemoglobin (Hb), mean corpuscular hemoglobin (MCH), hematocrit (HCT orPCV) in alloxan diabetic rats in insulin like treatment manner, with the most effective improving effect for roots extract. Regarding to the effects on total and differential white blood cell (WBC) count, administration of extracts caused decrease in the total WBC and neutrophil count. Administration of root, leaves and fruit extracts of
P. farcta,
showed suppression in total cholesterol (TC), triglyceride (TG), very low-density lipoprotein (VLDL-C) and low-density lipoprotein (LDL-C), and increasing in high density lipoprotein (HDL-C) of alloxan diabetic rats. In conclusion, the
P. farcta
extracts possesses properties of improving some health complications accompanied diabetes in rats.