Keywords :
<i>T. multiceps</i>
---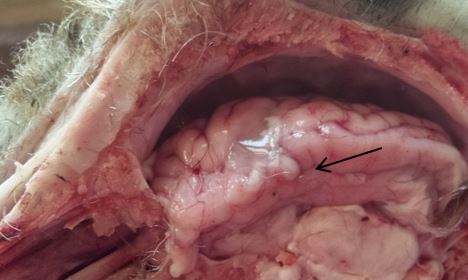 This study aimed to estimate the prevalence of
Coenurus cerebralis
of
Tenia multiceps
in sheep of Nineveh governorate. One handed and thirty-six sheep heads were examined for the presence of coenurus cysts 31 (22.8%) were infected. The younger were more affected than the adults. There were no significant differences between the number of infected males and females. The clinical signs varied from one animal to another which consisted of neurological disorders manifested by depression, bending of the head to one side, walking in a circular movement and paralysis in the hind limbs, while some animals did not give the clinical symptoms despite the existence of cyst. The number of cysts were ranged from 1 to 4 cysts/animal. The size of these cyst was ranged from 0.5 to 4 cm, and the volume of fluid in these cysts were ranged from 1 to 6 ml while the number of protoscolices in the cyst were ranged from 60 - 360 protoscolex, the mean length of large and small hooks was 179.95 µm respectively. The study also considered the identification of some chemical constituents of fluid of coenurus cyst such as glucose, total protein, cholesterol, triglycerides, calcium, sodium, potassium, urea and pH.