Keywords :
18S rRNA gene
---
This study aimed to investigate the evolutionary status of T. annulata in Al-Diwaniyah province, Iraq. In this study, the clinical examination of 50 infected animals was performed with blood sample collection (2.5ml per animal), and drug targets cytochrome b, a vital component of the electron transfer chain in the mitochondria of the protozoan, cytb gene was targeted using a polymerase chain reaction (PCR) procedure. Also, 18S rRNA gene as a molecular target for the PCR and a partial gene sequencing (PGS) were included. The PCR that involved using the 18S rRNA and cytb genes as genetic targets revealed amplification of the targeted pieces at 620bp and 1092bp, respectively, in all tested samples. The18S rRNA gene sequence of local T. annulata isolates were aligned with global reference strains for T. annulata recorded in the GenBank. The local strains were close, 100%, in their identity to isolates from Iran, Turkey, and Pakistan; however, they were 99% similar to a nucleotide sequences from India and Bangladesh. Diseased calves showed clinical signs such as high fever (40.3-41.5°C), decreased appetite or in appetence, asymmetrical enlargement of superficial lymph nodes particularly the pre-scapular ones, some cases with diarrhea, pale or icteric mucus membrane of eyes, bulging eyes, lacrimation, ecchymotic hemorrhages on the sclera, incoordination, nervous signs (Dullness, depression, lethargy), salivation, and bloated young calves. The data observed from the present inspecting work may reveal genetic evolution in the local strains with others recorded in the GeneBank. This means that our local strains might have close relationships with some global strains.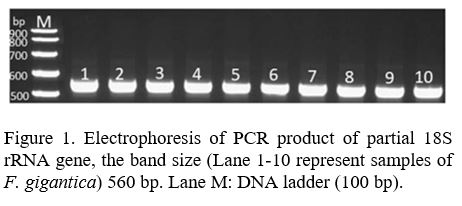 This study was conducted to investigate the 18S rRNA gene of
Fasciola gigantica
obtained from the liver of cattle live in Aqrah city, Iraq. Fifty-nine Fasciola flukes were collected through routine investigation from livers of naturally infected local cattle (42 cows), from May to August 2017, at the central slaughterhouse of Aqrah city, Kurdistan region of Iraq, the flukes were washed by PBS and then fixed in ethanol. Genomic DNA was extracted, and a 560 bp fragment was amplified by PCR, subsequent by sequencing of PCR products. A remarkable result of this project was the deposition of our gene isolate in GenBank (Accession No. MG786553). However, it was confirmed by the sequence results that isolate species was
F. gigantica
, and interestingly our samples sequences have alignment match of 100% with many international isolates, without genetic mutations or variations. It is concluded that molecular study could be utilized for both diagnosis and differential diagnosis of parasites with huge precise. Also, an 18S rRNA gene is a perfect fragment for molecular study and phylogenetic analysis of
F. gigantica
, also our samples have 100% alignment match with universal isolates.