Keywords :
HSP70
---
The goal of the current investigation is to study the effect of vitamin C and acetylsalicylic acid in minimizing the effects of heat stress in terms of hematological values, growth hormone, HSP70 and glutathione. Broiler were randomly distributed into four groups: 1st group was served as the control, the 2nd group subjected to heat stress 40±2 ºC up to 4 hours/day, the 3rd group was subjected to heat stress and vitamin C 360 mg/L via drinking water and the 4th group was exposed to heat stress and acetylsalicylic acid 0.03% via drinking water. The result showed that exposure to heat stress decline in RBCs count, Hb concentration, PCV and percentage of lymphocyte, furthermore elevation in of MCV, heterophils, H/L ratio, and Hsp70 concentration. Administration of vitamin C caused a significant rise RBCs, percentage of lymphocyte and reduces in MCV, MCH value, percentage of heterophils and H/L ratio compared with the heat stress group. Administrations of acetylsalicylic acid were significantly increased the RBCs, and PCV and decrease in MCV, MCH, MCHC values, and H/L ratio compare with the heat stress group. The results did not show a significant change between the tested groups in the levels of glutathione and growth hormone. The study concluded that Vitamin C and acetylsalicylic acid administration as feed additive ameliorating the opposing effect caused by heat stress in the broiler; thus, its administration recommends when there is heat stress exposure.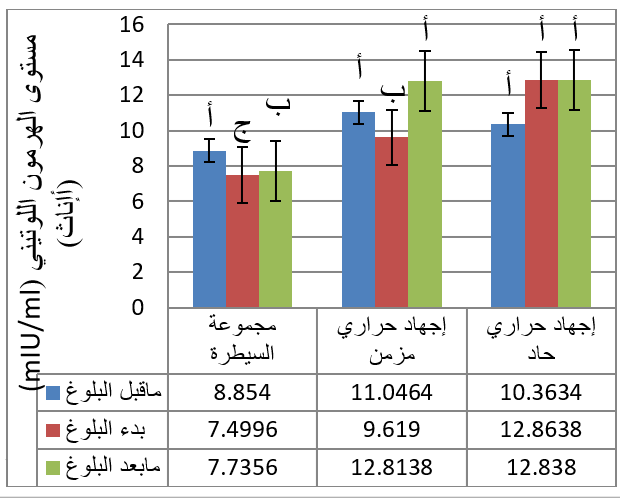 The current search experiments designed to study the effect of chronic and acute heat stress on the relationship between HSP70, leptin and luteinizing hormones level in female rats. 45 female pups were used in the age of weaning, were randomly divided into three equal groups. 1
st
group was a control group, 2
nd
group exposed to chronic heat stress at 38 ºC for 1hour a day since the age of weaning until onset of puberty and the 3
rd
group exposed to acute heat stress at 38 ºC for 4 hours per day for 5 consecutive days from 35 day age of rat and each group above were secondary divided into 3 age groups consisted of pre-puberty, at puberty and post-puberty. Results of study showed female rats exposed to chronic and acute stress led to significant increase in the level of luteinizing hormone at onset of the puberty. The result showed correlation coefficient between the level of HSP70 and leptin hormone significantly in the females acute stressed group at onset of puberty, as well as female exposed to chronic heat stress led to significant correlation coefficient between HSP70 and leptin hormone at post puberty. The result revealed significant correlation coefficient between HSP70 and luteinizing hormone in female control group at onset of puberty. It concluded from this study there is relationship between HSP70 and leptin hormone at onset puberty during acute heat stress and same relationship at post puberty during chronic heat stress.