Keywords :
Embryonated chicken eggs
---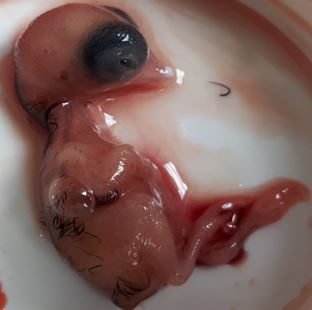 In this study 70 samples were collected from 14-26 weeks old egg laying hens. Clinical signs of infected chickens characterized by lameness, swelling in hock joint. Samples include blood for preparation of serum also hock joints and tendon for virus isolation. Hyperimmune sera was prepared by injection of broiler chickens four times with vaccine strain Reo 1133
R
0.2 ml subcutaneously in the neck. Samples were processed and prepared for virus isolation by using 6 days old embryonated chicken egg which was inoculated in yolk sac four passages. Lesions in egg embryo was recorded for each passage then the isolates were diagnosed by using neutralization test using convalescent and hyperimmune sera. Clinical signs of infected birds characterized by swelling and enlargement and edema of hock joint, postmortem lesions revealed swelling and injury in tendon, ulceration and erosions in cartilage and discoloration in synovial fluid, hemorrhage in the leg and yellow necrotic foci in the liver, the result of virus cultivation in embryonated chicken egg show dwarfism in growth, death of embryo with subcutaneous hemorrhage, initiated in 2
nd
passage and subsequent passages, this lesion increase in severity with progress of passages and with decrease in death time in hours and increase in titer of virus particles. The virus titer was decreased when neutralized by using neutralization test it gives 22 isolates were positive from 34 isolates.