Keywords :
Sequencing
---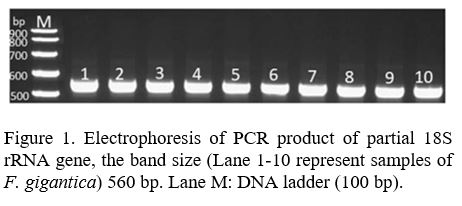 This study was conducted to investigate the 18S rRNA gene of
Fasciola gigantica
obtained from the liver of cattle live in Aqrah city, Iraq. Fifty-nine Fasciola flukes were collected through routine investigation from livers of naturally infected local cattle (42 cows), from May to August 2017, at the central slaughterhouse of Aqrah city, Kurdistan region of Iraq, the flukes were washed by PBS and then fixed in ethanol. Genomic DNA was extracted, and a 560 bp fragment was amplified by PCR, subsequent by sequencing of PCR products. A remarkable result of this project was the deposition of our gene isolate in GenBank (Accession No. MG786553). However, it was confirmed by the sequence results that isolate species was
F. gigantica
, and interestingly our samples sequences have alignment match of 100% with many international isolates, without genetic mutations or variations. It is concluded that molecular study could be utilized for both diagnosis and differential diagnosis of parasites with huge precise. Also, an 18S rRNA gene is a perfect fragment for molecular study and phylogenetic analysis of
F. gigantica
, also our samples have 100% alignment match with universal isolates.
This study was initiated for the first time for identification, using sequencing and phylogenetic analyses, of pseudocowpox PCPV that inhabit dairy cows in Al-Qadisiyah province, Iraq. Scab sampling was performed to obtain specimens from udder and teats of 18 affected cows. Initially, a polymerase chain reaction (PCR) method was followed to target a 408-bp piece of the GM_CSF/IL-2 inhibition factor gene (GIF) that belongs to PCPV. Then, the PCR products were sent out to partial sequencing of the GIF gene. The results of the PCR have indicated the presence of the virus in only 3 out of 18 samples. When the sequences were studied using phylogeny, the results have revealed that one of our PCPV strains has a close matching with some of the world strains such as from New Zealand. While two of the current study strains have clustered together with a strain from Finland. The results of our study confirm the presence of the PCPV in dairy cows that induces milker's nodules.