Author :
Al-Mariri, Aemaan
---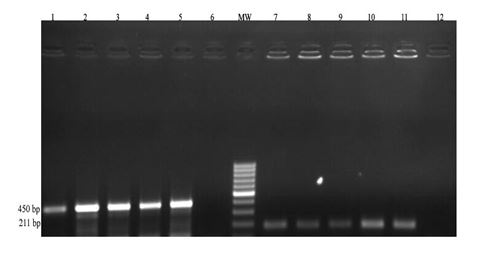 Shigella
is an intracellular bacterium can infect both human and animal. Its species especially
Shigella
dysenteriae
cause shigellosis worldwide, with 165 million cases of severe bloody diarrhea and mucoid feces. The aim of this study was to find a rapid, sensitive and specific method for screening
Shigella
in raw bovine contaminated milk. For this goal, 70 samples of milk collected in sterile containers for isolating of
Shigella
and culturing it on selective media to identify and characterize its morphology, biochemical and molecular characteristics. This study was compared between three different DNA extraction techniques for polymerase chain reaction (direct DNA extraction using a kit, alkaline DNA extraction, and filtrated milk). Our results showed that PCR was able to detect
Shigella
in 15 out of 15 cases after the milk samples filtered. In other words, the filter technique can be used to detect
Shigella
in contaminated milk.