Author :
Habib, Hassan N.
---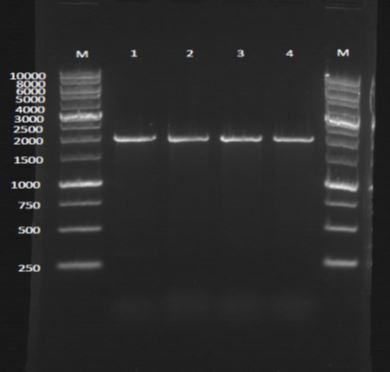 The heat shock protein 70 (HSP 70) has important roles in protecting cells and keeping them alive when exposed to different stress conditions. The polymorphism of the
hsp 70
gene could be linked with the ability of stress tolerance. This study aimed to determine the polymorphism of the
hsp 70
gene in Iraqi buffaloes and study bits effects on the resistance to stress. This study was conducted during from November 2018 to February 2019. The number of buffalo females used was 35 at the age of 4 - 6 years, which belonged to the local farmers from Basra city, Iraq. The DNA was extraction from the blood samples then the polymerase chain reaction (PCR) amplification was performed. The DNA sequences were analyzed by using bioinformatics analysis. The results of the molecular analysis showed that there were two groups of the
hsp 70
gene as a compare with the same genes in GenBank due to silent and missense mutations. Based on these findings, it can be concluded that the Iraqi buffaloes have adapted to the surrounding environmental conditions as a result of the action of HSP 70 proliferation. The
hsp 70
gene was a useful biomarker of stress tolerance in buffaloes.