Author :
Hussein, Saba A.
---
The study was done for described genotypically characterize of Staph. aureus isolated from the oral cavity of canary birds in Mosul city using polymerase chain reaction technique which was achieved by amplifying of the thermonuclear nuc gene specialized with Staph. aureus. Sixty birds were examined from variable ages of both sexes from different regions of Mosul city for the period of 1/5/2018-1/6/2019 was carried out. The results indicate that 35 samples gave Staph. aureus with the percentage of 58.4%. These isolates are positive for pigmentation of mannitol salt agar, hemolysis on blood agar, catalase and coagulase-positive, gram staining and oxidase negative. PCR technique indicate that all 35 isolates were positive for the nuc gene and produce amplicon of 166 bp. These results considered positive and it is very specific for bacterial isolates of staph aureus as well as may be used for strain isolation, characterization, and differentiation from other types of bacteria.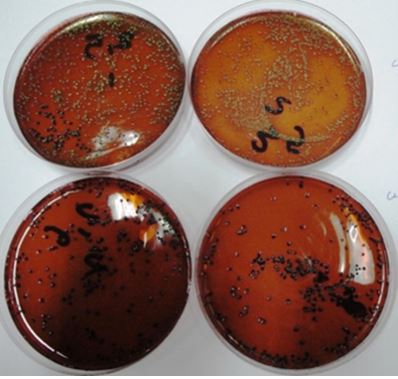 This study was conducted to evaluate the efficacy of Effective Microorganisms (EM1
®
) for inhibiting the growth of some pathogenic bacteria
Staphylococcus aureus
and
E. coli
were used in this study and isolated from pathological conditions. These bacteria were diagnosed in laboratory of microbiology, College of Veterinary Medicine, University of Mosul. The colonies that taken from blood agar were 5-7 and cultured in the nutrient broth and incubated at 37 ºC for 24 hours. Bacterial growth was calibrated with the second tube of the McFarland tubes 0.5%. Several concentrations of EM product were prepared 1, 0.5, 0.25 and 0.125%. Decimal dilutions were done for each concentration of EM product with bacterial suspension, except control group was done for bacterial suspension with nutrient broth. The bacterial count was done on nutrient agar, milk agar and EMB agar. The results of this study showed that the product of EM1
®
within concentrations 0.5-1% was highly efficient in inhibiting the growth of pathogenic bacteria under study. The bacterial count of both
S. aureus
and
E. coli
was 54x10
7
and 52x10
7
CFU/ ml respectively at 1% EM1
®
, and 67x10
7
and 86x10
7
CFU/ ml respectively at 0.5%, while the counting of the control group was 42x10
9
and 67x10
9
CFU/ ml respectively. This study concluded that EM1
®
at low concentrations have a clear role in inhibiting the growth of pathogenic bacteria, particularly
S. aureus
and
E. coli
.