Author :
Alkazaly, Haiffa Hussen
---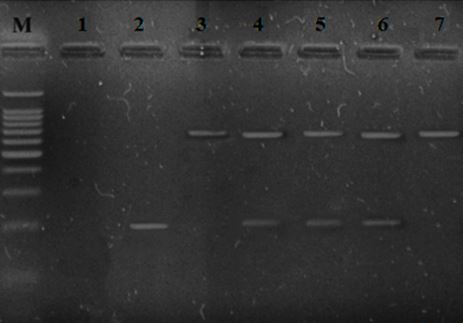 Paratuberculosis or Johne's disease is a chronic debilitating disease mainly infects ruminants and caused by
Mycobacterium paratuberculosis
. Previous serological studies in Mosul city confirm the presence of positive reactants for paratuberculosis in cattle. However, culture methods to confirm the disease need a long incubation period and also special media. Raw cow's milk is considered as potential source for transmission of
M. paratuberculosis
in cows' herds. Accordingly, this study aimed to detect the presence of
M. paratuberculosis
specifically in the raw cow's milk using polymerase chain reaction (PCR) technique as a rapid, sensitive and reliable method. A total of 50 samples of raw cow's milk were collected from cows suffering from emaciation and unresponsive to antibiotic treatment. All the samples were subjected to DNA extraction and direct amplification PCR. The results showed that 3 (6%) out of 50 milk samples were positive for
M. paratuberculosis
. This is the first study in Mosul city that confirms the presence of
M. paratuberculosis
in raw cow's milk using PCR technique. In conclusion, raw cow's milk could be an important source for
M. paratuberculosis
infection in dairy cows, and also PCR technique could be helpful in rapid diagnosis of paratuberculosis.
The study included the injection of Salmonella enterica serovar typhimuriumisolated from starlings bird in embryonated chicken eggs. The eggs were divided into eight groups, each group contain 6 eggs. The G1 and G2 groups were injected with the sterile normal saline solution in the choriaollantoic membrane (CAM) and yolk sac as negative control. The group G3 and G4 injected by bacterial suspension at a concentration of 104 cfu/ml in the CAM and yolk sac while the G5 and G6 injected with bacterial concentration 106 cfu/ml in the CAM and yolk sac respectively. Finally, the G7 and G8 groups were injected with 108 cfu/ml of bacterial suspension in the CAM and yolk sac respectively. The results showed that the highest percentage of death in eggs embryos was 100% in the sixth group after 96 hours of injection. There was also a significant increase in the number of bacteria in correlation with time of incubation. The highest rate of bacterial isolate was 8,19log10, 8,26log10 after 96 and 144 hours in the sixth group, while the highest number of bacterial isolates was 7.04log10 and 6.31log10 in the third and fourth groups after 48 and 96 hours of injection respectively. The results of the statistical analysis showed a significant difference in the number of bacterial isolate after 24 hours of injection in both concentrations compared to other incubation times. A significantrelationship was also found between the amount of the dose used and the bacterial disease. this study concluded that Salmonella enterica serovar typhimurium isolated from starlings can cause pathological changes and effect on hatchery percentage in embryonated chicken eggs.