Author :
Ibrahim, Sahar Mohammed
---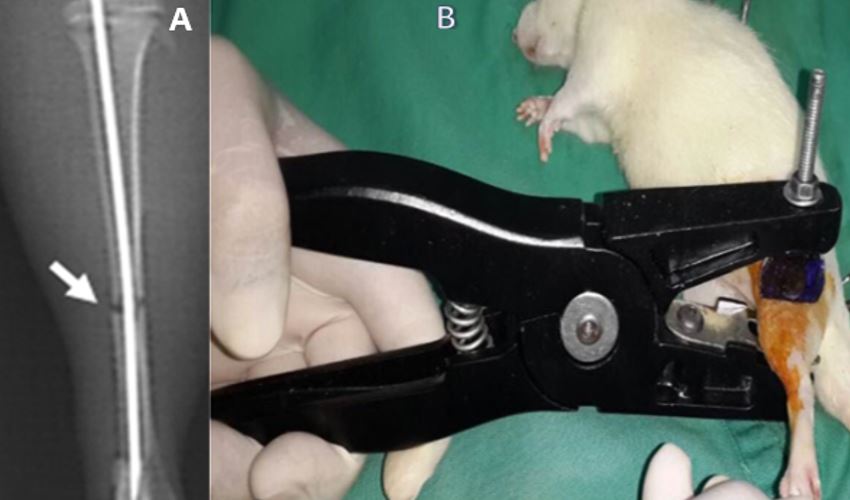 In secondary fracture healing, callus proliferate, undergo hypertrophy and the extracellular matrix becomes calcified. This step to some extent, recapitulates the embryological bone development with a combination of cellular proliferation and differentiation, increasing cellular volume and matrix deposition. The causes of the chondrocytes volume increase in secondary bone healing are poorly known, but cell membrane transporters perhaps could be implicated. We hypothesize that NHE-1 and AE-2 are among plasma membrane transporters that have a role in cellular differentiation and regulation of endochondral ossification for secondary bone fracture healing. Study of closed tibia fracture healing in 2 groups of 25 of 8-weeks-old Sprague-Dawley rats were undertaken and histological evaluation were made at 5 different time points at 1, 2, 3, 4, and 6 weeks after induction of the fracture. Histological evaluation of proliferative and hypertrophic chondrocyte zone area showed a significant difference in week 1 compared to other weeks. Immunohistochemistry study revealed a significant high level of labeling intensity of NHE-1 at the first four weeks. While labeling intensity of AE-2 showed moderate reaction at 1 and 2 weeks, that increased and reached the highest level at 3 and 4 weeks. These results suggested that NHE-1 and AE-2 had role in the endochondral ossification of secondary bone healing.
The aim of this study is to tissue engineer a 3D scaffold that can be used for load bearing segmental bone defects (SBDs) repair. Three different scaffolds were fabricated using cockle shell-derived CaCO3 aragonite nanoparticles (CCAN), gelatin, dextran and dextrin with coated framework via Freeze-Drying Method (FDM) labeled as 5211, 5211GTA+Alginate, 5211PLA. Scaffolds were assessed using Scanning Electron Microscopy (SEM). The cytocompatibility of the organized scaffolds was assessed using cells multiplication and alkaline phosphatase (ALP) concentration via In Vitro cell culture using human Fetal OsteoBlast cells line (hFOB). The results showed a substantial difference in ALP concentrations between the cultures of different scaffolds leachable medium during the study period. The biological evaluation also showed that three scaffolds did enhanced the osteoblast proliferation rate and improved the osteoblast function as demonstrated by the significant increase in ALP concentration. Engineering analyses showed that scaffolds possessed 3D interconnected homogenous porous structure with a porosity ranging 6%-49%, pore sizes ranging 8-345 µm, mechanical strength ranging 20-65 MPa, young's modulus ranging 166-296 MPa and enzymatic degradation rate between 16%-38% within 2-10 weeks. The in vitro evaluation revealed that the scaffold 5211, 5211GTA+Alginate and 5211PLA fulfill all the main requirements to be considered as an ideal bone replacement.