Author :
Al-Aalim, Ammar M.
---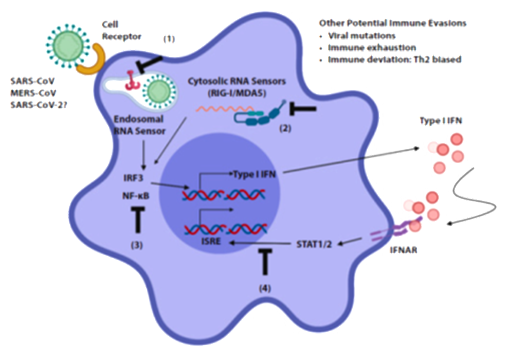 COVID- 19 is highly infectious disease where the first infected case reported in Wuhan city-China, then it was spread worldwide. The causative agent belongs to novel enveloped single linear positive-sense stranded RNA Coronavirus, which is also called SARS-CoV-2 and has an affinity to lung cells. The genetic analysis of SARS-CoV-2 suggested that this novehtm hgn l strain may be developed from the animal. origin by recombination between a bat SARS-like CoV and a coronavirus of unknown origin. The ability of rapid spread of SARS-CoV-2 virus from person to other is similar or even more than to other human viruses like influenza or plague leadding to be announced as a pandemic by WHO in 2020. The mortality rate in SARS-CoV-2 increased day by day and this led the scientists to search ways to control the virus. Most of the deaths in aged patients may be due to immune response complications where 70% of patients showed lymphopenia. This review, provided some details about structure, pathogenicity and immune response against SARS-CoV-2. The facts in this review lead to suggest that in most cases the death in SARS-CoV-2 may occur via loss of systemic inflammatory response control which leading to lung injury followed by pneumonia, acute respiratory distress syndrome (ARDS) and respiratory failure, hence the death especially in old patients. In concluding the early effective control of both innate and adaptive immunity may be the critical. key factor in protection against SARS-CoV-2.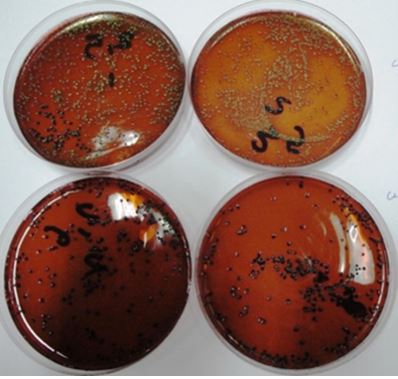 This study was conducted to evaluate the efficacy of Effective Microorganisms (EM1
®
) for inhibiting the growth of some pathogenic bacteria
Staphylococcus aureus
and
E. coli
were used in this study and isolated from pathological conditions. These bacteria were diagnosed in laboratory of microbiology, College of Veterinary Medicine, University of Mosul. The colonies that taken from blood agar were 5-7 and cultured in the nutrient broth and incubated at 37 ºC for 24 hours. Bacterial growth was calibrated with the second tube of the McFarland tubes 0.5%. Several concentrations of EM product were prepared 1, 0.5, 0.25 and 0.125%. Decimal dilutions were done for each concentration of EM product with bacterial suspension, except control group was done for bacterial suspension with nutrient broth. The bacterial count was done on nutrient agar, milk agar and EMB agar. The results of this study showed that the product of EM1
®
within concentrations 0.5-1% was highly efficient in inhibiting the growth of pathogenic bacteria under study. The bacterial count of both
S. aureus
and
E. coli
was 54x10
7
and 52x10
7
CFU/ ml respectively at 1% EM1
®
, and 67x10
7
and 86x10
7
CFU/ ml respectively at 0.5%, while the counting of the control group was 42x10
9
and 67x10
9
CFU/ ml respectively. This study concluded that EM1
®
at low concentrations have a clear role in inhibiting the growth of pathogenic bacteria, particularly
S. aureus
and
E. coli
.
The study included the injection of Salmonella enterica serovar typhimuriumisolated from starlings bird in embryonated chicken eggs. The eggs were divided into eight groups, each group contain 6 eggs. The G1 and G2 groups were injected with the sterile normal saline solution in the choriaollantoic membrane (CAM) and yolk sac as negative control. The group G3 and G4 injected by bacterial suspension at a concentration of 104 cfu/ml in the CAM and yolk sac while the G5 and G6 injected with bacterial concentration 106 cfu/ml in the CAM and yolk sac respectively. Finally, the G7 and G8 groups were injected with 108 cfu/ml of bacterial suspension in the CAM and yolk sac respectively. The results showed that the highest percentage of death in eggs embryos was 100% in the sixth group after 96 hours of injection. There was also a significant increase in the number of bacteria in correlation with time of incubation. The highest rate of bacterial isolate was 8,19log10, 8,26log10 after 96 and 144 hours in the sixth group, while the highest number of bacterial isolates was 7.04log10 and 6.31log10 in the third and fourth groups after 48 and 96 hours of injection respectively. The results of the statistical analysis showed a significant difference in the number of bacterial isolate after 24 hours of injection in both concentrations compared to other incubation times. A significantrelationship was also found between the amount of the dose used and the bacterial disease. this study concluded that Salmonella enterica serovar typhimurium isolated from starlings can cause pathological changes and effect on hatchery percentage in embryonated chicken eggs.